Today, as the title states, is my birthday. First of all, thanks to everyone who answered my call for help on the previous post. I definitely have some ideas of what I will treat myself to for my birthday. I've already bought one thing....some hand-dyed yarn from
Erin
. The colorway is puppymomma and I absolutely love it. She has some other colorways for sale, so check her out!
Here are some pics from my party at my mom's last night. My mom, grandmother, brother, aunt, uncle, husband, child, and dog were in attendance. We had a blast. Here's the cake.....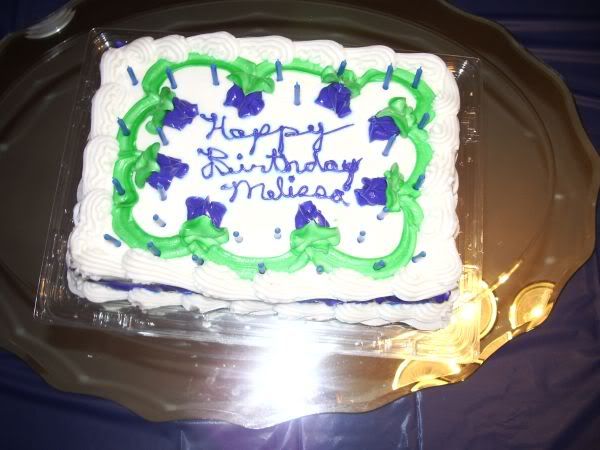 me blowing out the candles.......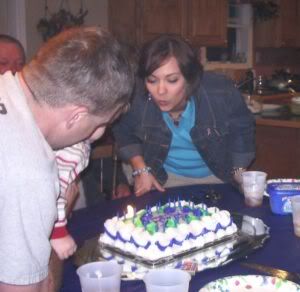 LittleMan trying to blow out the candles.....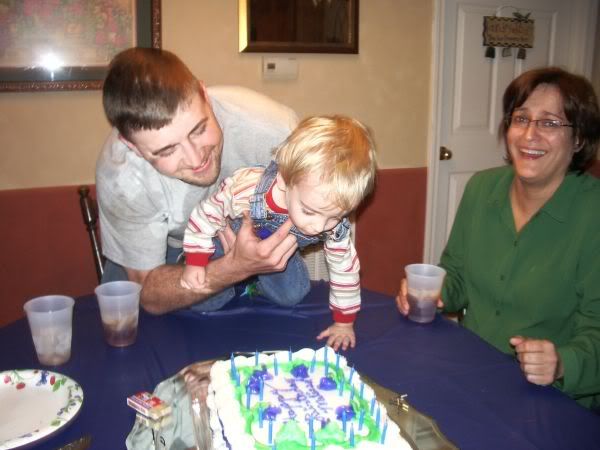 Layla......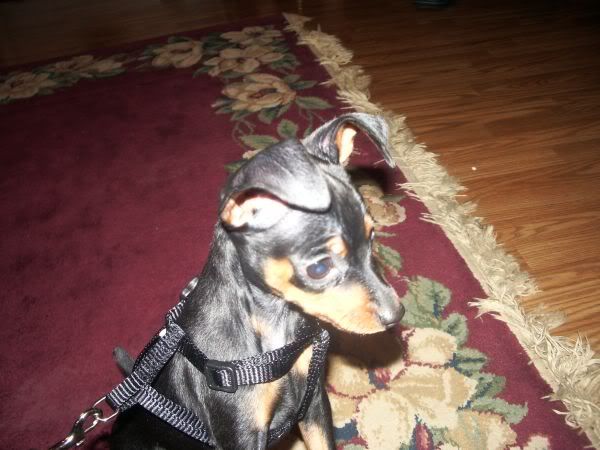 Me and my brother, Stephen (he was on duty during the party, just taking a supper break). He's available ladies, so if interested, let me know....... Also, the husband took the picture. I think I might need to take him to have his eyes or neck checked up.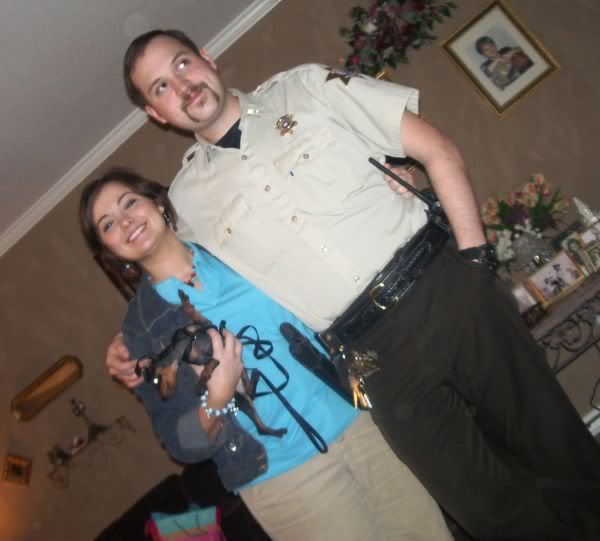 The presents......
This is from my mom. A HobbyLobby gift certificate and Knitting Vintage Socks by Nancy Bush.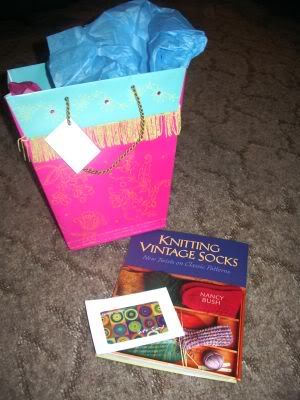 From my brother (who's still available). Fixing Knitting Mistakes (great little book), a Harry Potter scarf, and a John Deere shirt. He will be getting H.P. books for his upcoming birthday and a pair of knitted socks...shhhh...don't tell.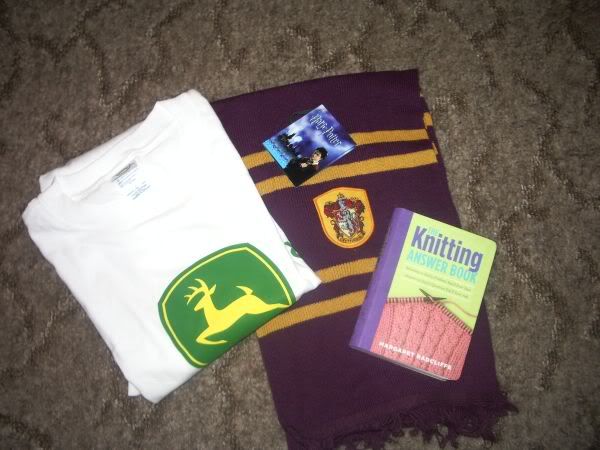 From my aunt and uncle and the Hooker.....a Circle E Candle. Yummy!!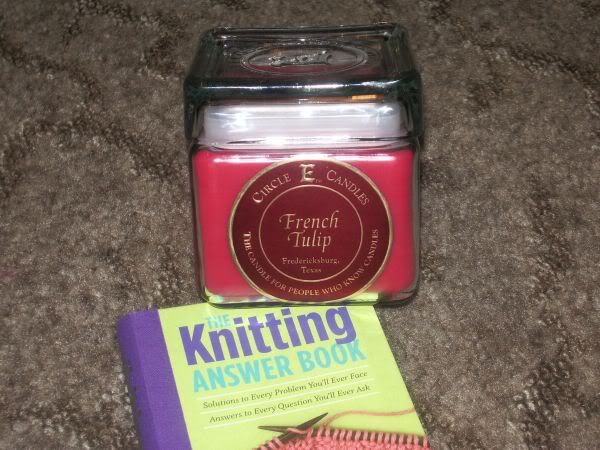 From my husband and son. From the son, an awesome new purse, from the husband, awesome new purfume...Hot by Ralph Lauren. This stuff smells GREAT. I had just read about it in Life&Style and wanted some but didn't have the chance to even tell him. He's got ESP I think!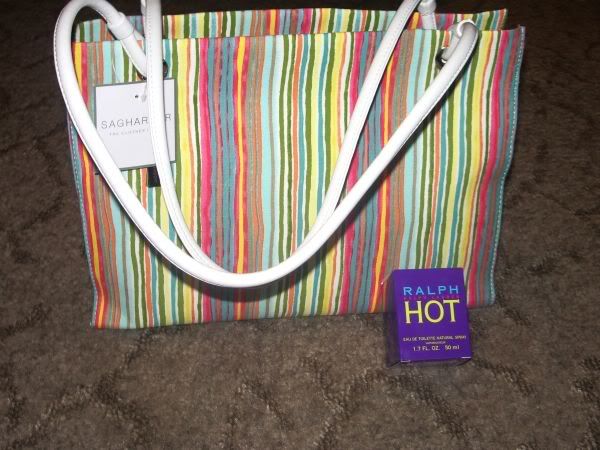 From my dad...books! I can't wait to read them. I've already read Predator (which I was super disappointed in) but he doesn't have to know. I'll exchange at BooksAMillion for...guess what...a knitting book!!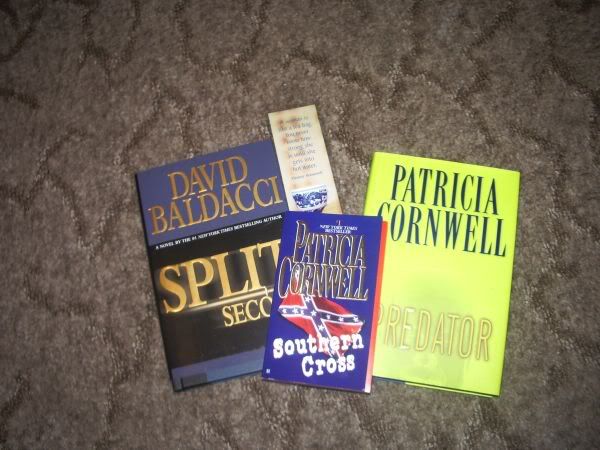 The party was great. This day so far has been great. I slept a little late, LittleMan and I went and did some fine dining for breakfast at McDs. We then shopped at Wal Mart (the Saturday wouldn't have been complete without that!). We came home and ate, went and checked on two horses which are due any day now (I really want one to come today so I can name her/him and we can have the same birthday. Then I came home and knitted a little more on the baby blanket I'm working on. I need to finish it so that I can concentrate on my brother's socks. It's about nap time for Layla and LittleMan, so I'm going to finish up this post, blog surf a little, and then back to knitting in peace and quiet.

By the way...Blogger has been crazy lately, so my super huge pics, and blog downtime are their fault, not mine. I'm getting really aggravated with that whole thing. I hope it's fixed soon!

Have a great weekend! Happy Knitting!!!

Melissa