This is my second time to try this freaking post. Grrrrrr!!!!
First of all, I finished the Hurricane Sock Party sock. You can't tell alot about the sock because the flash went off (it wsa 6:30 this morning), but the sock looks great. Yarn by
Scout
,
Knitpicks
Options dpns, Size 2. These needles kick butt and I'm definitely ordering some for myself (these are for my swap pal). They are light, fast, and sharp. I love them.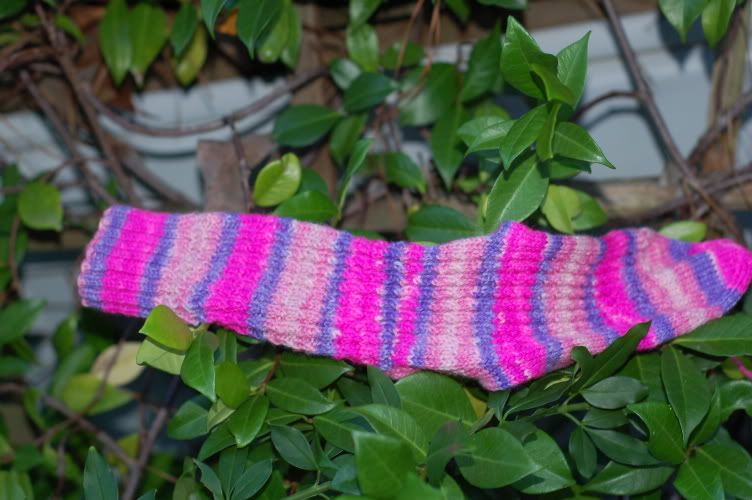 I dyed some yarn this weekend. Here are the results. I started out on some worsted weight yarn, and I love the results. These will be some cute scarves I think.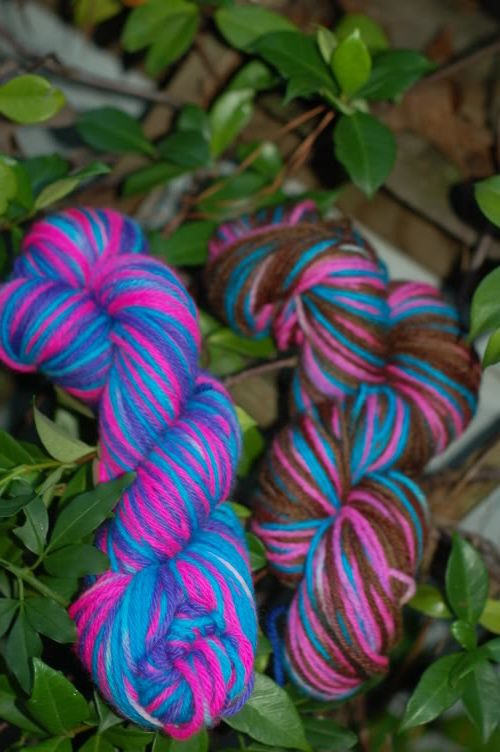 I also dyed some fingering weight, but there was a little "accident" with me dropping the yarn in the pot full of brown dye, so I'll spare you the horrible outcome.
I found that this Knitpicks dye your own gets a little fuzzy when dyeing. That gets on my nerves. Anyone else have this problem? I think I'll try the Kona superwash and maybe I'll get results that I like better. Until then, I'll practice on the Knitpicks.
I can't wait to do some more dyeing!
One last funny story, and I'll leave you all alone. I had started a baby bib for my friend who is having a baby this month. She has a son LittleMan's age. I explained all this to LittleMan and asked what he would do if mommy brought home a new baby (not that I want to, am thinking about it, or anything of that nature) and he replied, "We don't need a baby, we have Layla." That cracked me up...smart kid.
Hope you all had a great weekend!
Melissa